Our Storefront is currently closed but I am still here to serve you with Curbside Pickup or shipping nationwide.
After careful consideration I have decided to close our storefront for the time being. This decision has been made for the health and safety of our customers and our employees. Currently, I am offering curbside pickup as well as shipping nationwide and local home delivery within a certain mile radius of our shop. Again, the store will be closed to outside patrons at this time.
You are still able to get our gourmet chocolates!
Please call the store between 10-3 Monday through Saturday at 781.944.7155, message me on Facebook, or email me direct at craig@thechocolatetruffle.com. I can take your order and payment information over the phone and put your order together, process your payment and bring your order right to your car, curbside, in our parking spot on Green Street or in one of the three parking spaces directly out in front of our store on Main Street.
I will continue to post pictures and prices for some of the many Easter offerings as well as our everyday items available in store. You can also continue to order custom boxes of chocolates and I am happy to walk you through our selection over the phone and provide the same customer service that you would receive if you were in our store. Please note that only I will be in the store as I have asked our staff to stay home and stay healthy so please be patient as I try to help each of our customers.
As CDC recommendations change and government restrictions continue to evolve, I will do the same.
I will continue to update you all on any changes moving forward. Please stay safe and stay healthy.
Sincerely, Craig Burkinshaw Owner/Operator
View our catalog of hand made chocolates & truffles.
Check out our Easter Catalog
View our 2020 Easter Chocolate Catalog.
Download the catalog, give me a call and we will make sure you have hand made confections for you Easter Holiday.
The Chocolate Truffle, your source for hand made chocolates
A Fourth Generation Gourmet Confectioner
Craig is a fourth generation confectioner who grew up in the candy business.  He takes great pride in the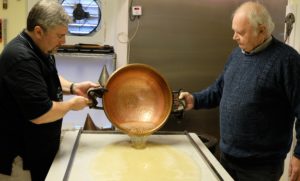 products that he creates.  Refusing to use inferior ingredients and only using the finest chocolate that he can obtain. He crafts many of the batches from classic recipes  and chooses to do it the old fashioned way often using equipment that predates the 1920's.  "Candy making is becoming a lost art and I hope to continue the tradition. There really aren't any schools for making candy and most of the knowledge is handed down from one generation to the next."
"Confectionery is very labor intensive work and many generations have not carried on the tradition and unfortunately many of the once great confectioners have faded away over time." His passion for the work can be seen in many of the intricate pieces he creates each day.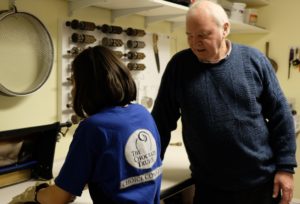 In our candy kitchen its truly a family affair, my girls help make confections especially during the holidays.  Our favorite confection to create together would be Candy Canes for Christmas.  My daughters both started helping me when they were just four years old.  Its a candy that is made entirely by hand, so several hands are needed.  Even today the weekend we make Candy Canes is by far my favorite time of the year.  Having both my girls and wife along side me, making candy all day - It doesn't get any better than that!