We are closed Monday Feb 18th - Sunday Feb 24th for Store Renovations.
We apologize for any inconvenience. We reopen on Monday Feb 25th.
The Chocolate Truffle, your source for hand made chocolates
A Fourth Generation Gourmet Confectioner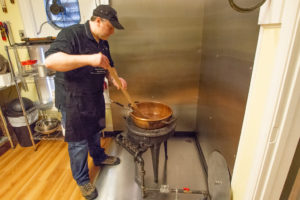 Craig is a fourth generation confectioner who grew up in the candy business.  He takes great pride in the products that he creates.  Refusing to use inferior ingredients and only using the finest chocolate that he can obtain. He crafts many of the batches from classic recipes  and chooses to do it the old fashioned way often using equipment that predates the 1920's.  "Candy making is becoming a lost art and I hope to continue the tradition.  There really aren't any schools for making candy and most of the knowledge is handed down from one generation to the next.  Confectionery is very labor intensive work and many generations have not carried on the tradition and unfortunately many of the once great confectioners have faded away over time." His passion for the work can be seen in many of the intricate pieces he creates each day.