Chocolate Brioche Bowls

You can even eat the Chocolate Bowl!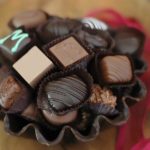 Our hand crafted, custom molded brioche bowls make a stunning gift presentation.  These bowls are molded with our finest milk and dark chocolate to create a hand-painted artisan effect.  The solid chocolate bowls are overflowing with an assortment of our most popular gourmet chocolates.  To complete this exquisite piece, each bowl is encased in clear cellophane wrapping and tied with a designer bow.
Showing the single result