Crafting Hand Made Candies & Chocolates for 30 years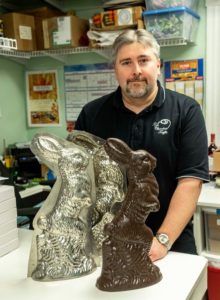 Craig and Jennifer Burkinshaw purchased The Chocolate Truffle in August of 2015. They purchased the company to fulfill their dream of having an old fashioned candy store with the finest quality confections combined with the help of a warm and friendly staff. Following in the footsteps of the previous owners, they continue to make decadent truffles and gourmet chocolates that the company has been so well known for since its inception in 1989. Excited to continue making artisanal items and the prospect of adding more to an already fantastic line, the couple continually adds many other confections from recipes handed down from the Cooper family, formerly of Priscilla's Candies of Lawrence Massachusetts, after they retired. They have already added such traditional items as, Cream and Butter Fudges, Caramels, Hard Candies, Buttercrunch & Peanut Brittle, just to name a few.
Craig is a 4th generation candy maker with over 30 years of confectionery experience. Candy is in his DNA. His Great Grandfather began making candy back in the early 1900's. Craig has worked and consulted for many candy companies in northern New England. Throughout those years his goal always remained the same: to one day open his very own, small scale, artisan candy shop. His true passion: making candy the way it used to be made back in the days of his Great Grandfather. His goal: to produce the highest quality confections, crafting handmade candies in small batches, using only the finest ingredients. Tired of having worked in many fast paced, large volume companies, Craig sought out the opportunity to get away from those environments, which allowed little to no time for the creativity, quality or attention to detail that he was longing for. He knew it was time for a change. Then an opportunity presented itself and Craig and his wife Jenn jumped at the chance.  Following in the footsteps of their mentors Norman and Harriet Cooper formerly of Priscilla's Candies in Lawrence, Massachusetts, they purchased The Chocolate Truffle. Setting out to make the finest confections in a warm family environment. "It was the perfect place for us to develop new creations as well as continue to make many of the traditional favorites that so many people have become accustom to." The Chocolate Truffle is the change Craig had been waiting for and the opportunity to get back to basics. "We truly are the small candy shop on Main Street. Stop by and see what's cooking today, try a taste of something new or maybe an old recipe that hasn't been made in years. With the purchase of The Chocolate Truffle our goal to open a confectionery shop where we could bring back the art of candy making and be proud of those confections was finally realized."
Jennifer grew up working on a Dairy Farm and has spent the last 20 years working in Accounting and Marketing in the private sector. She has built a successful career in business and enjoys the challenges of small business operations. The couple has two daughters Meagan and Allie. "Being a Mom is my first job and the most important. Finding the balance between work and home is my greatest challenge." Both girls help out at the Candy Shop and of course sample the treats. "They are also our toughest critics."
I have always had a passion for food and cooking, for our home we are loyal patrons of Appleton Farms and Tender Crop Farms.  The girls and I enjoy our shopping trips not only to see what's in this week but also the opportunity to see the animals and rolling fields of crops.  Simply put it's our break from the craziness to just breathe in the fresh air and be quiet for a moment.  This desire to supply my family with the best foods carries over to our mission as candy makers.
Our ingredients matter most to us, it all starts there.  Our chocolate is a sustainable cocoa provided by Cargill of North America .  We are pleased to have the ability to source our cream locally from Richardson Dairy of Middleton, MA our butter from Cabot Creamery of VT . Our Peanut Butter is all natural Teddy Peanut Butter of Everett, MA   and our choice for sugar is always Domino.  We are proud to partner with our local suppliers and together we are able to produce the decadent candies so many have grown to love.  Our commitment to our customers and our love of candy is our secret recipe.
From our family to yours...