4 Generations of Candy Makers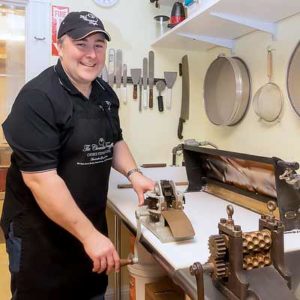 Craig and Jennifer Burkinshaw purchased The Chocolate Truffle in August of 2015. They purchased the company to fulfill their dream of having an old fashioned candy store with the finest quality confections combined with the help of a warm and friendly staff. Following in the footsteps of the previous owners, they continue to make decadent truffles and gourmet chocolates that the company has been so well known for since its inception in 1990. Excited to continue making these artisan items and the prospect of adding many more to an already fantastic line, the couple continues to add many other confections that come from many of the Burkinshaw's family recipes as well as those from candy companies that have long since closed their doors. They have already added such traditional items as, Cream and Butter Fudges, Caramels, Hard Candies, Buttercrunch & Peanut Brittle, just to name a few.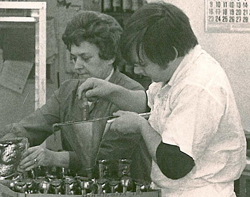 Craig is a 4th generation candy maker with over 30 years of experience. His Great Grandfather purchased Ye Olde Pepper Companie of Salem Massachusetts at the turn of the 20th century and the candy company continues to operate today. Craig left the family business to pursue his true passion: making candy the way it used to be made back in the days of his Great Grandfather. His goal is to produce the highest quality confections, crafting them in small batches, handmade, using only the finest ingredients. "The Chocolate Truffle is the perfect place for us to develop new creations as well as continue to make many of the traditional favorites that so many people have become accustom too." Craig, having worked in a fast paced, large volume environment for so many years sought out the opportunity to get away from that fast paced environment, which didn't allow much time for creativity and attention to detail that he was longing for. He knew it was time for a change. The Chocolate Truffle is that change, the opportunity to get back to basics. "We truly are the small candy shop on Main Street. Stop by and see what's cooking today, try a taste of something new or maybe an old recipe that hasn't been made in years. Our goal was to open a confectionery shop where we could bring back the art of candy making and be proud of those confections."
Jennifer grew up working on a Dairy Farm and has spent the last 20 years working in Accounting and Marketing in the private sector. She has built a successful career in business and enjoys the challenges of small business operations. The couple has two daughters Meagan and Allie. "Being a Mom is my first job and the most important. Finding the balance between work and home is my greatest challenge." Both girls help out at the Candy Shop and of course sample the treats. "They are also our toughest critics."
"Our goal is to bring back a new kind of old fashioned, preserving the past and creating new traditions for the future."
Give us a try and taste the way candy should taste.
From our family to yours...