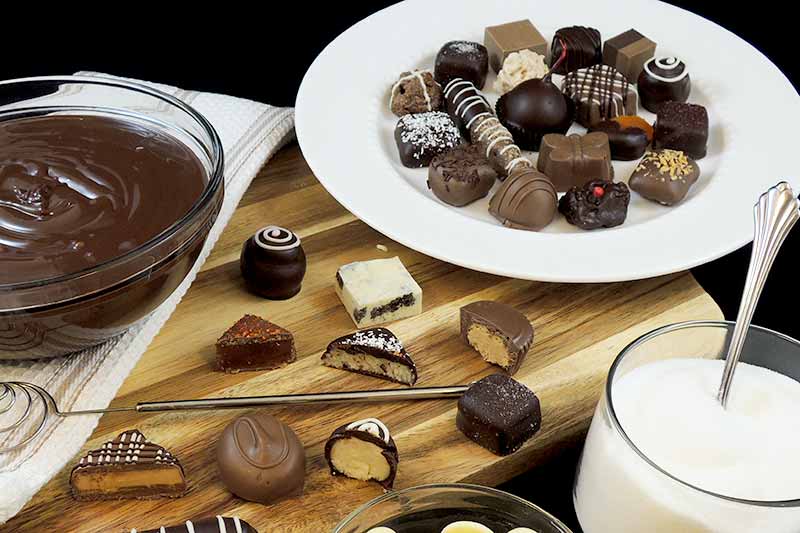 We can't think of an ad for a chocolate company that hasn't at one time or another used the word "indulgent" or "decadent." Both of which evoke a sense of luxury and exceptional quality. If that's what we can expect from chocolate, then why settle for anything less?
Chocolate is chocolate, though… right? Wrong! With just a few small sense tests, you can tell if your chocolate is top of the line, or bottom of the bag. Feel free to grab a piece of our Chocolate Truffle chocolate and see if we pass the test! (And we will…)
Test 1: Oh Snap!
If you ask your chocolate to tell you something, it will. Snap your chocolate in half and listen closely. Good quality chocolate snaps in a delightfully clean, crisp break. If you try to break your chocolate and it bends or crumbles… don't bother. Good quality ingredients, and proper ratios of milk, sugar, and cocoa allow for a proper snap.
Test 2: The Nose Knows
Now, you'll probably think we're crazy if we tell you to see if your chocolate smells like…well, chocolate! But if you really pay attention, good quality chocolate scent isn't masked by strong additives like spice or vanilla or other flavors. It's rich cocoa takes center stage.
Test 3: The Eyes Have It
You don't need a magnifying glass to see if your chocolate is worth eating. A nice glossy, smooth finish means your chocolate was made and stored properly. Often chocolate can melt and re-harden before making it to your box, resulting in discoloration or crystals. Look for chocolate so sleek you can almost see your reflection in it!
Test 4: Down the Hatch
Chocolate has a very specific melting point, rather close to our internal body temperature. So proper chocolate melts in your mouth without hesitation producing a silky soft texture you won't be able to get enough of.
Do yourself a favor and indulge in the truly decadent experience of a sweet from the Chocolate Truffle. We pass the tests with flying colors every time!
Sources