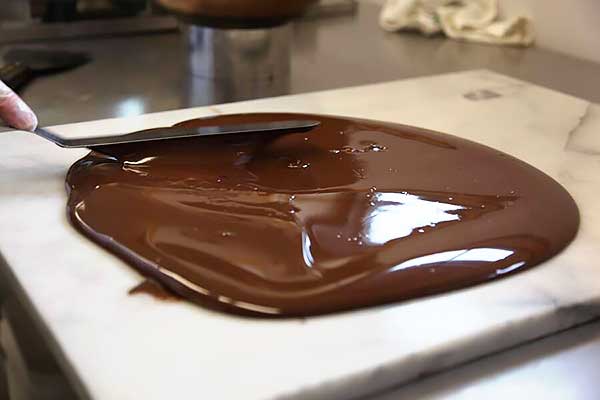 It seems simple, the way chocolate behaves. It melts, it solidifies, it's creamy, smooth, and good to the last morsel. But chocolate has a temper…or rather… must be tempered. Put on your physics hats for just a moment while we dive into the complex world of chocolate.
Chocolate is a six-phase polymorphic crystal. This means that when we melt chocolate, it can recrystallize in six different ways. These crystal structures owe their existence to the fat content in cocoa butter. But there is a golden structure that chocolatiers seek to achieve with the manipulation of the chocolate's temperature; a process named tempering.
It's easy to know, see, and taste when chocolate is improperly tempered. This is because the chocolate is in Form VI. The fats from the cocoa butter separate from the chocolate and rise to the surface, causing the chocolate to "bloom" and create a dull white coating. This chocolate is still safe to eat, but won't melt as luxuriously. It crumbles and stays firm.
Form V is chocolate's sweet spot. The chocolate is heated to melt any existing crystal structure, then cooled to create an environment where only Form V crystals can thrive. This perfectly tempered chocolate hardens, and breaks with a loud snap, only to be melted as soon as you pop it into your mouth.
One of the most popular tempering methods is tabling, where melted chocolate is poured onto the table and manipulated while it's cooled using a palette knife. It is warmed again by being combined with uncooled chocolate.
It is said that early discoveries by chocolatier Joseph Fry in the late 1800s, and the forgetfulness of an employee of Rudolphe Lindt, led to the discovery of this smooth, shiny chocolate process. Aren't we grateful for a few scientific mishaps that bring us the delightfully decadent treats we love to enjoy?
Chocolate is an art, a science, and a lifetime endeavor. At The Chocolate Truffle, we are determined to bring you the finest homemade chocolates, powered by science, creativity, and love.