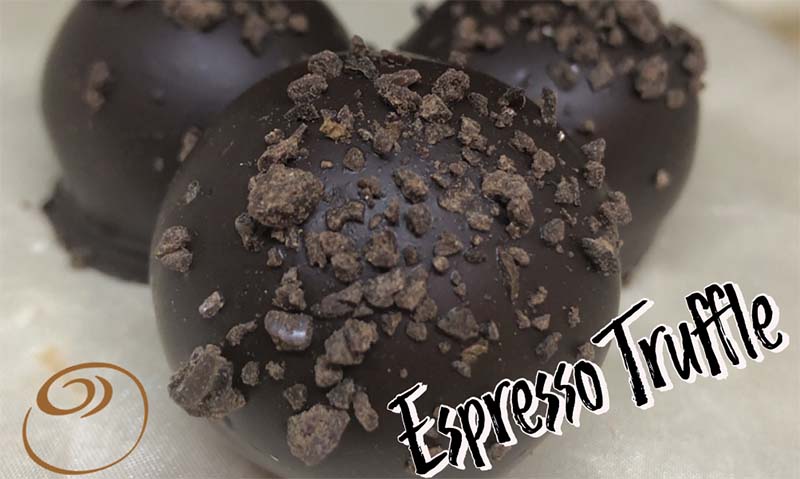 How do you take your coffee? Strong and black, cream and sugar, steamed milk … in a truffle? Coffee is a universal morning wake-me-up, afternoon pick-me-up and after dinner sweet-me-up! However you take your morning cup of joe, we know you'll just love to sink your teeth into one of our coffee-flavored truffles. Dive into the bitter sweetness of our dark chocolate espresso truffle for an afternoon zing. Or, savor every morsel of our milk chocolate coffee cream topped with a crunchy espresso bean for a sweet treat. While we're talking about coffee here, let's take a little dive into the world of coffee! Learn the difference between some of our favorite coffee shop orders.
While you are no doubt basking in the glory of our espresso truffle right now, let's start there. Espresso, what is it? From an Italian word meaning "pressed out", espresso is not a type of coffee bean, rather it is a drink resulting from a specific method of preparation. Espresso is highly concentrated and caffeinated with a strong kick. It can be enjoyed alone, with a twist of lemon, a spoonful of sugar or added to some of your favorite drinks.
A cappuccino, named after the Capuchin friars whose robes had a similar color to the milky beverage, is equal parts espresso, steamed milk, and foamed milk all stacked in neat precise layers of deliciousness.
A latte is made of the same ingredients as a cappuccino, but you'll notice the ratio of those ingredients is the key. A latte is more milk and less espresso, no matter the ratio, resulting in a creamy beverage with a mild espresso flavor and a thin layer of steamed milk on top.
It is said the Americano came to life when American soldiers stationed in Italy felt espresso was too strong and watered it down in efforts to make it seem like the drip coffee they drank at home. An Americano is simply that, a shot or two of espresso mixed with water resulting in a mild lovely cup of coffee.
Got that coffee buzz? Enjoy our delightful coffee truffles and chocolates on their own, with a shot of espresso or alongside a cup of coffee no matter how you take it. Try one … or two today!