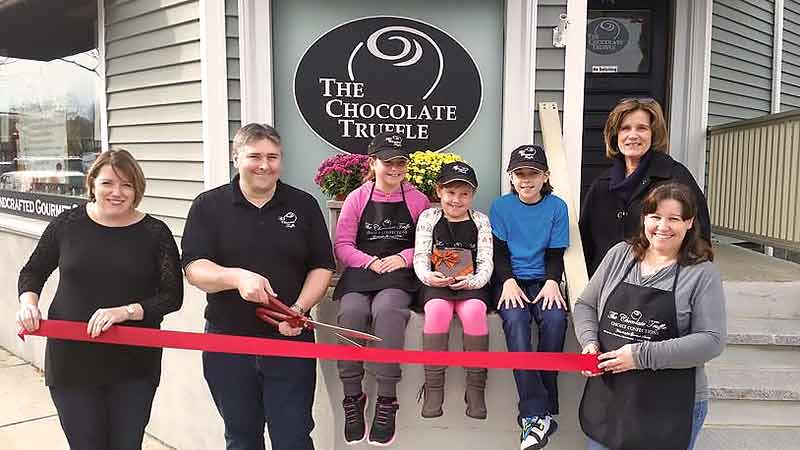 That's our Ribbon Cutting picture from September 28, 2015 when we purchased The Chocolate Truffle.
Today I can't help but reflect on how similar the feelings are between then and this past week. We re-opened our shop this week for in-store shopping after being closed for six months. We've stocked our bare shelves, laid out fall decorations, made Halloween specialties and filled our chocolate room with product. The shops all set-up, our staff back to work, and we ask ourselves will there be customers to sell them to?
Five years ago Jenn and I exchanged those same words and shared that same uneasy feelings. This whole endeavor was a leap of faith. On Sunday over breakfast my family and I quietly reflected on this milestone we have accomplished together – Jenn's words, "It may not have always been pretty, but we've made it this far." We really have banded together and worked together over these past months. Being without my staff and operating a curbside and shipping service is no easy feat alone, but working as a family we made it work.
It has been my wife and daughters that have come in on evenings and weekends to put orders together, dip chocolates, and re-set up the store. Remarkably at times I am astonished the number of Easter Baskets Jenn made in April, or how quickly Meagan was able to put orders together, and the beautiful chocolate boxes Allie filled on her own. We are a team and as we all know there is no "I" in team.
I am happy to have my staff back with me, but am forever grateful for the help my family provided when I needed it most. Over the past five years, and highlighted these past months our customers have been our greatest supporters. We thank all of you for your continued patronage though these unbelievable times. So many of you are more than just customers, your friends and that's our true success.