As per usual, time, distance, and usage can alter the meaning of a word. Forming its round, sugary self in 17th century France… how we got the nonpareil is like a sweet candy game of telephone
You came here for candy but before you earn a bite into that sweet melty chocolate covered in snappy little balls of sugar, you have to pass your grammar test…
Merriam-Webster.com tells us nonpareil comes from the French words non, meaning "no" or "not," and pareil, meaning "same" or "similar" as an adjective or "equal" as a noun. "The ultimate Latin root of pareil is par, which is also the ancestor of the English words pair ('two like things'), peer ('one that is of equal standing with another'), and par ('an amount taken as an average or norm' or 'equal'). The literal meaning of nonpareil, therefore, is 'without peer' or 'peerless.'" Got it?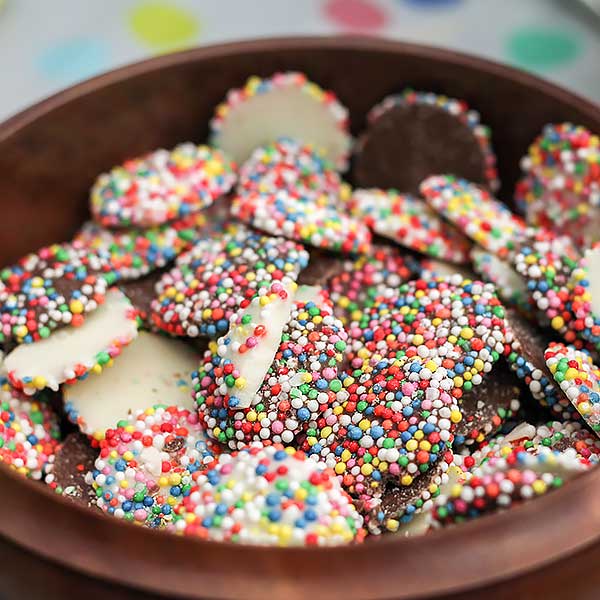 Simply put, (now that you're even more hungry…) it means like no other. And the nonpareil candy we know today, certainly is like no other. First donning the sweet buttercream icing of wedding cakes, nonpareils began as colorless sugar decorations. The nonpareil originally referred to only the small round button candies or beads, that we today see sitting on top of a small heap of delicious chocolate. These little rocks of sweetness gave rise to what we know as sprinkles: the colorful, oblong, chewy cousin of the nonpareil bead.
Also known as 100s and 1000s, nonpareils have topped sweet treats across the globe. For instance, the famous Australian Fairy Bread is composed of white bread, smothered in butter, and generously heaped with as many multi-colored nonpareils as possible.
"Nonpareil" isn't always in reference to sweet candy goodness. It acts as a classifier for other savory foods like capers and almonds. But no matter how you spell it, say it, or count it, the decadent, snappy, chocolatey nonpareils at The Chocolate Truffle are like no other! Our version is the one you probably thought of first when you heard the word… a milky chocolate base covered in snowy white sugar beads making for a delightful combination of taste and texture! Give them a try! And while you're at it, sample our delicious truffles, turtles and other treats!