Why is it so much sweeter when we find out that our favorite bites of chocolate were made by accident? Maybe it's because it makes something that tastes so perfect, a little more relatable. Maybe it's because it makes us feel like our seemed failures can turn into something remarkable. Whatever the reason, even if we can't find the exact proof, we love a good old fashioned rumor about a happy accident.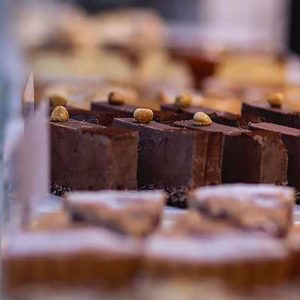 "Oh fudge!" Rumor has it that this exclamation rang through the sweet candy halls when a botched batch of caramels turned into the marvelous treat we recognize as fudge. Rightly so, to "fudge" something, used to refer to fitting together in a clumsy manner. When this supposed batch of caramels turned into a creamy, crumbly brick instead of the ooey-gooey stretchy-chewy treat, small sugar crystals formed on the top… the ones you see on the delightful blocks of fudge you're about to run to The Chocolate Truffle for.
It figures that fudge, the way it is made now, is highly intricate. Fudge is a crystalline candy, where the temperature and timing play an integral role in giving fudge its unique texture.
Speaking of timing, let's roll back to 1886. Emelyn Battersby Hartridge (you remember her, right?) had a cousin who supposedly made fudge in Baltimore and sold it for 40 cents a pound. It was such a hit that Emily asked for the recipe and made 30 pounds of it for the Senior Auction at Vassar College (which she was attending.) The letter she wrote to her cousin can be found in the archives of Vasser. The fudge recipe was so popular that the students took to making it in their dorm rooms over gas lamps, and it was passed on from school to school. Smith and Wellesley schools developed their own recipes.
Now, while the original fudge from 1886 isn't around anymore, fudge does last an impressive amount of time. Of course it's most delicious when fresh, but you can take your favorite flavors from The Chocolate Truffle and freeze them for later! Cut it down to size, wrap it with airtight material, throw it in an airtight plastic freezer bag until you're craving more. (We all know that it is so delicious it will never make it to the freezer…but just in case.) When you're ready, take it out of the freezer and let it reach room temperature before sinking your teeth in.
Such a happy turn of events, this delicious confectionary accident. It's no accident that your favorite sweet shop The Chocolate Truffle carries an excellent supply, so you don't have to write your cousin a letter and make it yourself!