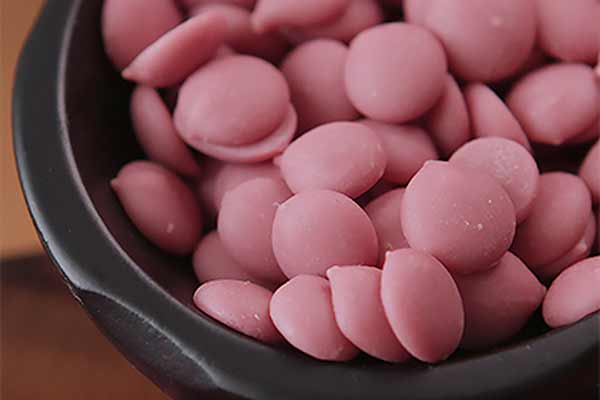 There is a new chocolate in town, and her name is Ruby. For decades we have been combining chocolate with everything we can think of. The possibilities were endless with our three amigos: white, milk, and dark chocolate. Ruby chocolate, the fourth chocolate. is here to shake things up, in ways you never thought possible.
Now, chocolate is chocolate, no? There can't be a new one, because chocolate is just exactly that…chocolate, from the cocoa bean…right? Oh so ruby wrong. The cocoa bean naturally houses a unique component that yields a punchy pink color, and delightfully fruity flavor profile. And the chocolatiers at Callebaut (the company who released this new product) are keeping their trade secrets close to their hearts. They say, "The ruby cocoa bean thrives in cacao growing countries like Brazil, Ecuador and Ivory Coast. Neither genus or origin determine the qualification for a cocoa bean to be a ruby bean. It's the natural occurrence of the typical precursors that qualify for a bean to have the ruby bean profile and evoke the ruby colour and taste. As single Belgian gourmet chocolate having dedicated more than 100 years to bean-to-chocolate making, Callebaut® masters the skill of awakening the unique sensory properties of the ruby cocoa bean. Only expert selection and meticulous processing of the ruby beans yield ruby RB1 – without adding any colorants or fruit flavourings."
While they can't technically call Ruby a chocolate yet, she'll remain a ruby couverture as her sour notes, and bright fruity flavors hit the shelves, and melt in our mouths.
The Chocolate Truffle is hot on the trail, and always curious about how to provide our customers with new and exciting treats! Stay tuned as we follow this ruby red mystery and discover how to introduce it to your chocolate-craving palette!