Now we hope that in arriving at this blog, you're currently sinking your teeth into a delicious chocolate truffle… not trying to find a substitute to curb your chocolate craving. We say when you're craving chocolate, eat it! Interestingly enough, though, your chocolate cravings may be calling for specific reasons. So why is our sweet tooth singing for more?
Maybe… you just want it! Eating chocolate brings us joy. It's an indisputable fact that the silky sweet chocolate melting in our mouths and licked off our fingers makes us happy. (Of course, the chemical makeup of chocolate itself doesn't trigger a release of dopamine in our bodies…) But, the very act of eating chocolate does! Stay happy. Eat more chocolate!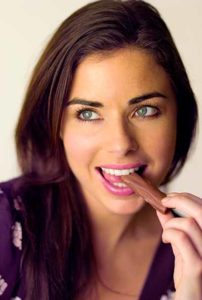 Chocolate is comfort food, a stress reliever. Our emotions and stress levels cause us to crave things that make us feel better. Because eating chocolate makes us happy, we may find ourselves reaching for a milky morsel when we're in need of a boost.
Speaking of boosts, we may be scrambling for a cup of coffee when we've approached the afternoon slow-down. If coffee isn't your go-to pick-me-up, you may be in the habit of keeping chocolate within arm's reach. Some dark types of chocolate can contain more caffeine than a can of soda!

Women, in particular, would be interested to know that their cocoa cravings could be caused by a magnesium deficiency. While many of the greener, healthy foods contain large amounts of magnesium, dark chocolate is also a fun way to occasionally boost your magnesium intake.
Whatever the reason you may be craving a chocolatey bite from the Chocolate Truffle, we believe that a little bit of chocolate makes the day better! As always we wish everyone a happy, healthy day, and are always here for your sweet treat boost.