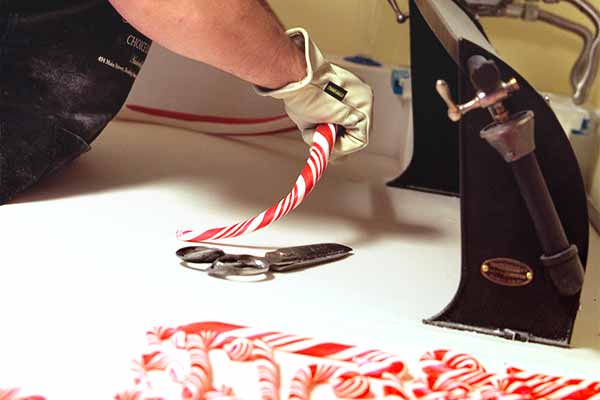 A great question and one I am asked quite often. Over the years the answer has varied. In my teenage years when I was just learning the craft I would more than likely answer that making hard candies was my favorite or perhaps a certain chocolate. Many years later however, my answer is concrete: candy canes. In order to shed some light on the process of making a candy cane we need to start with some basic facts. Our candy canes are made using a time honored recipe and made completely by hand. The process requires swift hands, a warm kitchen and complete attention to the details.
My love of making candy canes goes beyond the piece itself and really encompasses the tradition. Here at The Chocolate Truffle usually just after Thanksgiving we prepare for a full day of candy canes in our kitchen. On this day my two daughters, Meagan and Allie, along with my wife Jenn join me in the kitchen. It's often on a Sunday, the candy store is closed and our whole focus will be on the day's work.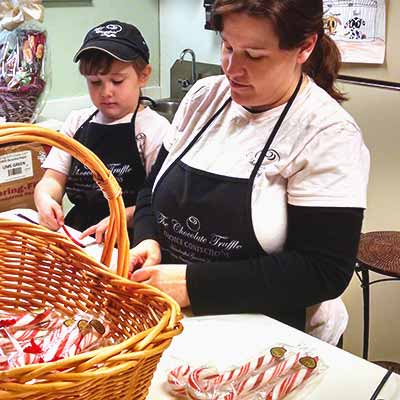 We have the Christmas music playing in the background and everyone knows their job and prepares to get things started. Years ago when the girls were younger I was always the one preparing everything, making the batches and getting the canes ready for cutting and curling. Back then the girls would be standing ready to curl each piece into the traditional cane shape. Both of my girls started curling candy canes when they were about 4 years old. I can still remember them standing on a crate just to be tall enough in front of the table to curl them.
Today Meagan is 14 and Allie is 10, Meagan makes most of the batches herself and I find myself assisting her. Making candy canes with my wife and my girls is a special holiday tradition. It marks the start of a very busy time here at the candy shop. Many things have changed as they often do throughout the years, and as another holiday season fast approaches, one thing remains the same; my favorite confection to make is candy canes and my favorite day of the year is always the day I make them with my wife and my girls!