Run, Run, as Fast as You Can! A Brief History of the Gingerbread Man
The spicy warm smell of ginger is beginning to fill the air. The grocery store shelves are lined with gingerbread walls and royal icing. Through the hallways and up the stairs rings the snap of the poor little gingerbread man being devoured by hungry little mouths. While the story never really ends well for the gingerbread man, (…he's always getting gobbled, whether by a little red-nosed kid, a wily fox, or having his gumdrop buttons taken against his will…) his tale in history is as rich as he tastes.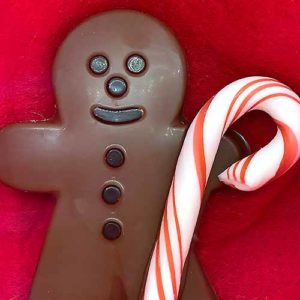 Ginger itself has long been used to cure a weak stomach and keep away illness. But when it's baked into a tasty treat, it develops character, the ability to woo and supposedly bring good luck. It can charm dignitaries and entertain children, and be exchanged as a token of love.
In medieval times, as knights prepared for their dangerous tournaments, they peered the crowds looking for a lovely lady to impress. If they were lucky, one of them would present them with a piece of delicious gingerbread and wish them good luck. For the not so lucky ladies who couldn't find a knight, they'd gobble up a gingerbread "husband" in hopes that it would bring them the real thing.
Perhaps we'd all be more likely to read a newspaper if it were made of snappy gingerbread. Just as much, in Europe, gingerbread (in its not so tasty form- consisting mainly of almonds, breadcrumbs, rosewater, and sugar) was pressed into highly ornate wooden molds and baked. These molds would be carved in the likeness of royalty, or whomever had made a big splash in the news of that day. White icing or gold paint would adorn the tops of the cookies to highlight the detail and craftsmanship of the gingerbread celebrity. Not straying too far, Queen Elizabeth jumped on the gingerbread wagon and in efforts to impress visitors and dignitaries alike, gifted them gingerbread shaped in their own likeness. Far from the simplistic gingerbread men we see on our tables!
Gingerbread wasn't always shaped in glorious detail, but its storied relationship with royal icing didn't end there. By way of Hansel and Gretel by the Brothers Grimm, and the gingerbread house they stumbled upon leading to their demise, gingerbread houses increased in popularity, both over time and over oceans. Still a tradition today this time of year, gingerbread isn't going anywhere anytime soon.
The sweet treats of the biting winter season are endless. The Chocolate Truffle has everything you could ever want by way of sweetness! Whether it's to gift to one you love, share with friends, or to win the favor of your favorite dignitaries, we've got loads of delicious treats to choose from! Start your search today!