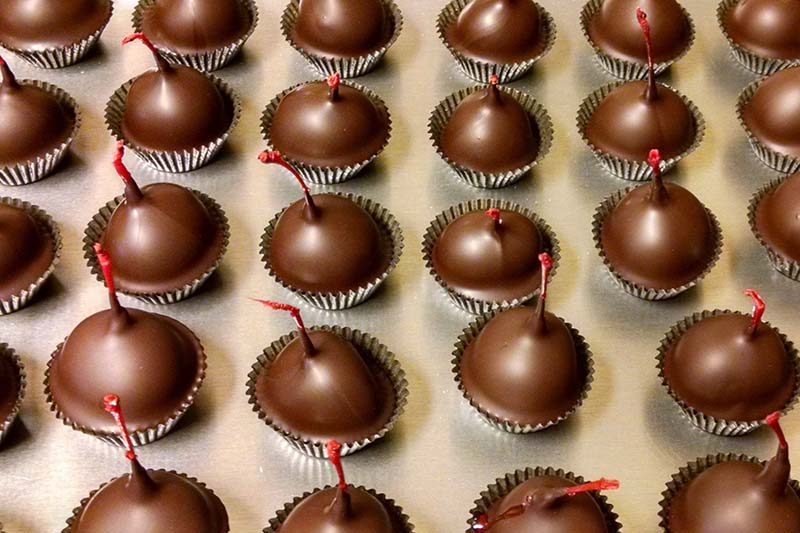 Chocolate-covered cherries, cherry cordials, griotte… whatever you want to call it, these chocolate coated treats are a longtime favorite! Our cherry cordials are made in-house and artfully crafted to be a delicately sweet fancy treat!
Of course, this delightful bite of goodness is formed around the sweet cherry fruit. These sweets date back to 1700s France, in a region called the Franche-Comté where a local crop of cherries was grown. These particular cherries were griotte cherries, a sour variety that undoubtedly pairs well with sweet chocolate. A dessert by the same name was formed by dipping the cherries in chocolate and a bit of a clear cherry-flavored liqueur.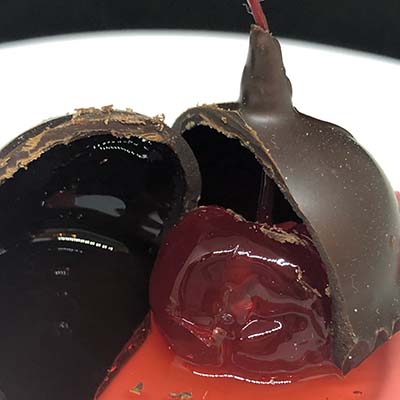 There are many ways to make chocolate-covered fruits, including your classic dipping of the fruit into melted chocolate, enrobing the fruit by pouring chocolate over it, and of course, forming them in molds. 
At The Chocolate Truffle, we use real cherries in our cordials! We use a very simple process to make our cherries that makes them delicious! We dip them in fondant cream, dip them in chocolate and then science takes over and the cherries naturally break down into a delicious sugar syrup candy center! Locally made with fresh clean and simple ingredients really set our chocolate apart from the rest.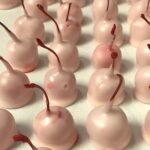 So drop by today and pick up a batch of our cherry cordials, taste the difference!  While you're here, check out our large selection of truffles and other handmade candies as well.