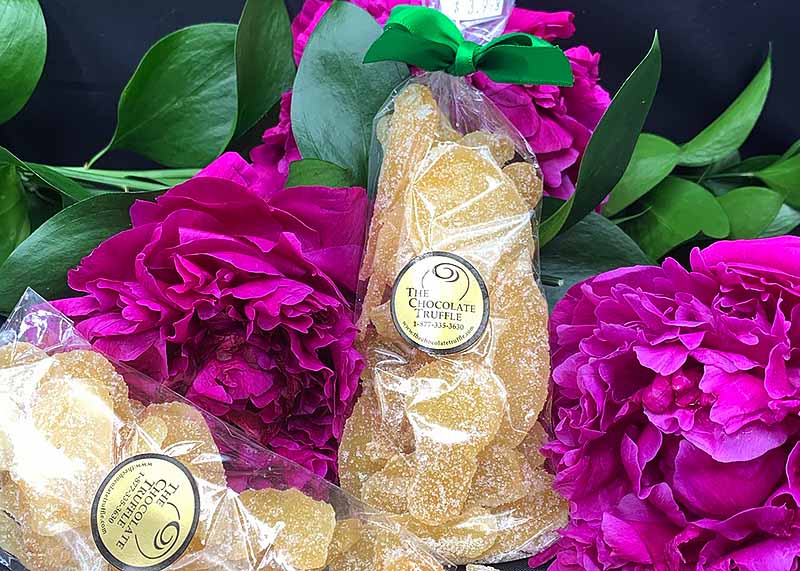 Fall is in full swing. Everything sweet, pumpkin-spiced and ginger-spiked is within reach! We love the flavor that a spice like ginger adds to baked goods, hot drinks, and savory dishes. We also absolutely love crystallized ginger candy as a sweet and spicy midday pick-me-up! Crystallized ginger candy is a classic. Not only is it delicious, but ginger has plenty of health benefits. It's been known to be good for nausea, muscle soreness, digestive problems, sore throats, and more! As you've seen at the grocery store, ginger comes in a handful of forms: fresh, ground, and crystallized. It can be tempting to swap one for the other when you're following a recipe, but there are a few things to know about each type of ginger and what qualities it adds to what you're making!
Fresh ginger is found in root form. Typically you would peel the outside to reveal the potent ginger underneath. It can be sliced, diced, chopped or grated to add a bright spicy flavor to a savory dish, or a cup of tea. Fresh ginger, when chopped or diced, adds another element of texture to your dish and can add a nice kick when you find a piece in your bite of food. When it's grated, the flavor of fresh ginger melts into the dish, adding spice without altering the texture.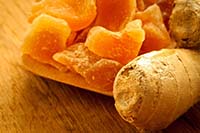 Ground ginger is often used in baking, and carries a very strong flavor in just a pinch! Be careful when substituting ginger for this reason. Ground ginger adds a deep spicy background flavor, often lingering after a delicious bite from a sweet treat!
Crystallized ginger is great on its own for a sweet tooth! It can also be chopped and added to cookies and cakes. Adding crystallized ginger to a recipe is a great way to add the bite of ginger when you find a piece inside, but not overwhelm the whole bake with ginger flavor. Crystallized ginger is cooked with sugar, so it's not interchangeable with fresh or ground ginger.
Ginger is such a versatile item! Try it out in your next dish, and don't forget to stop in at The Chocolate Truffle for a bag of our delicious ginger candy!