The best part about choosing your favorite chocolate truffles is walking into the shop and smelling that sweet aroma of fresh-made chocolates. With glittering eyes, you walk up to the glass case and see the array of bright colors and flavors calling your name. As you point to your favorites, the chocolatier behind the counter slowly lowers them into a beautiful box for you to take home…or completely devour on the car ride!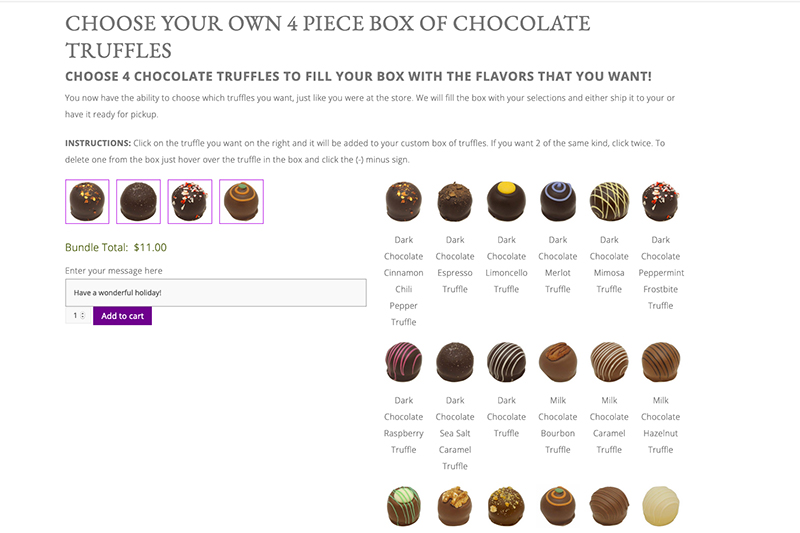 Lately, we've been racking our brains to bring you that same experience virtually, while limiting contact and keeping you safe, and we think we've cracked it! When we closed our storefront back in March and were only doing curbside pick up, we had so many people say the one thing they missed the most was coming in and picking out their favorite pieces from the case.  So we created the online "pick your own" chocolates and truffles so that our customers could order virtually from the comfort and safety of their home but still be able to see each of their favorites and create their own custom box of chocolates or truffles. 
Now at www.thechocolatetruffle.com, you can handpick your truffles and create your own box! We provide you with a beautiful visual of all the truffles you can choose from. Individually choose your favorites, and watch your box fill up with truffle-y goodness! Before you add them to your cart, you can take a look at your box and make sure it's perfect! Coming in boxes of 2-12, you can be as choosy as you want! Send them as gifts, or load up on sweets for you and your family!
We know that a lot of our lives are happening online right now, and while we can't wait to see all of our loyal customers in person again, we want you to do what makes you feel safe, and we are so excited to bring you a safe way to connect! Even though life has changed, our truffles haven't! And neither has the love and care we put into making them!
Check out our website today! You'll be mesmerized by how good the truffles & chocolates look, and be surprised that you aren't actually standing in front of a Chocolate Truffle case! Just be sure not to drool on your keyboard! We can't wait to get your order!